Combo Wildlife & Fly Fishing Eco Tours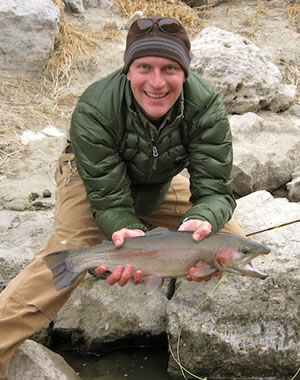 Combine A Sunrise Eco-Tour Adventure with an afternoon on the Snake River Fly-Fishing. Let us show you the best of Jackson Hole. While you enjoy the economic advantage of booking two tours for one price, we will give you memories to last a lifetime. Explore Grand Teton National Park in the morning observing wildlife and then spend the afternoon on the river catching and releasing native trout with a seasoned fishing guide. Our educated guides will share their knowledge of animal behavior, biology, and the natural history of this wonderful place. Lunch is provided on this combination trip.
Brian Wolanski of Crafting Excellence LLC will be your experienced fly fishing guide who will take you to his favorite fishing holes. He rows a custom-built 15 ft. stitch and glue drift boat built with his own hands. He has successfully guided trips for several years in Western Wyoming showing anglers where the big fish can be found. Brian moved to Jackson in 2003 and soon after began his professional fishing career at the historic Flat Creek Ranch. His passion for fly-fishing began when he was twelve, and he spent much of his youth thereafter fishing for Largemouth Bass, Brook Trout and Blue Gills near his home in Massachusetts. Since moving west, Brian has spent time traveling and fishing throughout Wyoming, Idaho, Utah, California, Colorado, Montana, and Canada. On the fly, he has landed Cutthroat, Brown, Rainbow, Brook, Steelhead Trout and numerous warm water fish. Brian has extensive experience fishing on many of Jackson's nearby rivers, including the Salt, Green, Snake, Lewis, Big Horn, and Flat Creek. Brian is a passionate and patient teacher of many of life's skills. When not fishing, you can find him crafting custom homes, restoring old motorcycles, mentoring friends in the ways of home repair, hunting, and furniture making. His spirit and enthusiasm for fishing is contagious. He can instruct you in the basics, perfect your cast, while spending the day with you stalking Wild Cutthroat Trout. Join Brian for a scenic and breathtaking float down the famous Snake River through Jackson Hole, Wyoming for a morning or afternoon of fly-fishing.
What's included?
Experienced and knowledgeable guides to give you a in-depth introduction to Grand Teton National Park and the experience of floating and fly-fishing the Snake River.
Use of top quality fly rods or spinning rods and as many flies as it takes to catch the big ones.
Professional quality Binoculars and Spotting Scopes
Visual aides to help with a hands-on learning approach
Pickup in the town of Jackson or Teton Village.
A box lunch, that will be healthy, organically grown, and locally produced when possible.
Hot and Cold beverages
A comfortable 4 wheel drive vehicle that is run on Bio-Diesel
Time: appx. 9-10 hrs long
These tours are offered May-October , depending on road conditions or closures. Pickup times are close to sunrise, call for exact times
Group size: This combination trip is designed for 2 guests. A third can accompany for an additional charge of $150.00. Two people can fish at a time. On the wildlife portion of the trip no more than 5 people total will be touring Jackson Hole.
Price: $625.00 for one to two people.
Book Your Trip Today!
Call Taylor
(307) 690-9533
E-Mail Taylor